ROGAINE® is the 1st FDA-approved brand to treat hair loss in both men and women by stimulating your hair follicles to regrow thicker, fuller hair.
THE PROOF IS IN THE INGREDIENTS
Specially formulated with Tricho-Prime® Technology, the revolutionary formula begins to work on contact, priming your scalp for optimal hair regrowth.
MINOXIDIL
Revives and increases the size of hair follicles and extends your hair's natural growth cycle so you can regrow thicker, fuller hair.
REGROW MORE HAIR WITH ROGAINE®
ROGAINE® is the easy choice to help reactivate hair follicles and grow thicker, fuller hair:
In hereditary hair loss, a combination of genetics, hormones, and age causes progressive shrinking of hair follicles, shortening your hair's growth cycle.
USE ROGAINE® TO REGROW HAIR
ROGAINE® penetrates your scalp to restore inactive hair follicles and increase protein production to lengthen your hair's active growth phase.
A satin pillowcase will be gentler on your delicate hair than cotton.
TREAT HAIR LOSS IMMEDIATELY
Left untreated, each growth cycle produces shorter, finer, hairs until growth ceases, so start using ROGAINE® as soon as you notice thinning hair.
FOR BEST RESULTS STICK WITH IT
Within 3-4 months of using ROGAINE®, you'll begin to see visible results. With continued use, you'll enjoy improved coverage with thicker, fuller hair.
EXPERIENCE PROVEN RESULTS
For more than 20 years, ROGAINE® brand hair regrowth treatment has been the long-standing industry leader.
FOR MEN
9 out of 10 men noticed results using Men's ROGAINE® foam twice daily for 16 weeks vs. a placebo in a 4-month clinical study.
WOMEN
More than 80% of women using Women's ROGAINE® foam once daily increased their hair count in a 6-month placebo-controlled clinical study.
REAL RESULTS WITH ROGAINE®
See before and after photos and videos of how ROGAINE® has helped real people regrow their hair - and their confidence!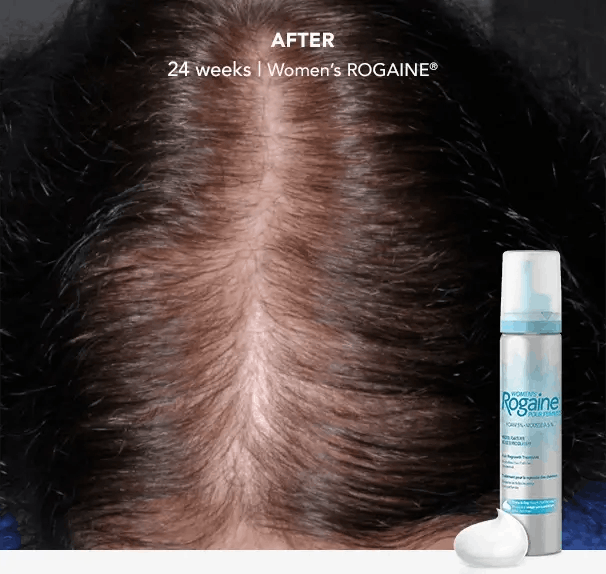 THE EXPERTS AGREE
Hair Growth Expert Dr. Henry answers key questions around Hair loss and explains why she recommends ROGAINE® & its active ingredient minoxidil to regrow thicker fuller hair.